Jeffrey Kaminski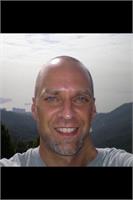 Jeffrey Kaminski instructs the following:
The Foundations to Flow class focuses on developing the fundamentals of breath and alignment for a safe and strong yoga practice. Designed for both new and experienced students, classes provide modifications as well as opportunities to explore deeper expressions of each pose. The perfect solution for a busy lifestyle, classes emphasize calming and strengthening the body and mind, and encouraging the release of physical and emotional stress.




A high-intensity workout designed to build muscular endurance both on and off the bike. With lots of sweat and fun, this one-hour class will help you improve lean to fat ratios, increase cardio capacity, and gain strength and stability.

This 60-min class consists of:

1) Warm up (5 min.),

2) TRX endurance block (20 min), (off the bike)

3) Cycling endurance block (30 min.)

4) Cool down (5 min.).